The wiring structure is like the nervous system of your boat. Without it, you would accomplish very little. But one faulty circuit and the safety of the entire structure is compromised. When it comes to complicated structures like this, it's important that you're well versed in electrical safety early to make sure you don't get stuck out on the water later.
Marine electrical security revolves around three main ideas: to secure, organize, and maintain your cables and boat wiring. Whether you're boating for leisure or for a living, it's essential to familiarize yourself with all the components of your electrical system before you leave the dock.
Water damage, weather strain, and exposure to a possibly-treacherous marine environment make boats pretty much the last place you'd want to find much electrical wiring. However, electricity has become central to the function of most marine crafts. Without proper installation and protection, your boat wiring can quickly drain your wallet and become a hazard to your safety.
Short-term solutions may sound appealing to you now, but with professional, long-term cable management, you can save time and money for years to come.
1. Securing & Sealing Exposed Wires and Cables
Wire complications are amongst the leading causes of boat fires and other safety-jeopardizing concerns. If any wire is visible, it can be exposed to wind, water, and salt corrosion. Cables should also be inspected for abrasions, cuts, and tears, that may also leave some wires visible.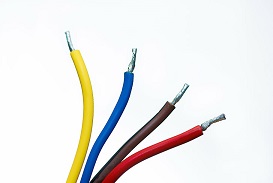 Secure your boat wiring with heat shrink tubing to prevent corrosion and vulnerability, especially where wires might come into contact with equipment. You should always check the connections and insulations of your wires as well. Poor cable connection not only generates potential fire-hazards but also reduces the function and performance of your system. Before replacing or repairing boat wiring, refer to the American Boat and Yacht Council (ABYC) for their standards on making safe connections.
Spade terminals and marine rings are a must for reliable wire connection rather than wire nuts. These can be used to connect and disconnect wiring to screws and studs that are being used for an electrical connection. Using a drip loop, which is a method of hanging your cables, can also prevent water-damage by allowing excess water to run off the bottom of the wires instead of directly onto the terminal block.
Terminals can be further waterproofed by securing adhesive lined heat shrink tubing over them. Visual checks for damage on marine switches, panels, and outlets can also ensure that these protective devices don't become hazardous by accidental damage to the internal wires that may cause electrical shocks.
2. Organizing Your Electrical System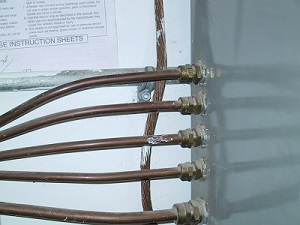 With so many different marine electrical wiring sources on your boat, another extremely important process in cable management is a comprehensive organization of your electrical system.
Beyond tagging wires with electrical tape or adhesive markers, you can use clear heat shrink tubing over these markers at the end of each wire to permanently label them. Keeping track of your cables in a wiring diagram is also crucial to organizing your system.
With so many wires, cable maintenance can become extremely tedious without a clear record of your system. Here is an extensive color-coding system for marine wiring which will keep you organized. BuyHeatShrink offers a wide range of colors of tubing that make this labelling and wire management much easier. Not only will this organization save you from the stress of tangled wires in the long run, but it will also optimize storage and space within your boat.
3. Maintaining & Managing Your Cables & Wires
Marine electrical is especially unique because it requires wiring to be corrosion and damage resistant, while also being flexible for proper connections.
Cable and zip ties are a great way to secure and mount your wires without sacrificing the wire slack needed to compensate for the boat's movement.
Frequent inspections of your electrical system are also crucial to cable management and will ensure all electrical issues are resolved before any significant electrical outages, fires, or shocks occur. Consistently clean and monitor your cables for corrosion and dirt. Ensure that all cables are correctly and securely plugged into the proper locations as well.
Make sure to keep your wires in safe sites where they are clearly protected from external damage. Regularly reviewing your cables and arrangement for the electrical system will also reduce unexpected issues out on the water, deterring avoidable and costly repairs while keeping you safe.
Proper installation, structure, and support is necessary for the protection of your boat's electrical system. Don't attempt any electrical repairs without the necessary procedures from your boat's manufacturer, and seek out a professional marine electrician for extra precaution. By taking these steps to secure your cable safety, you'll guarantee sustainable performance and upkeep for your marine craft.